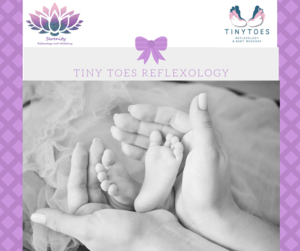 Reflexology and Baby Massage
Your baby's feet in safe hands

As a Tiny Toes Reflexage Instructor I can offer you training and support in small groups or on a 1 to 1 basis. All Tiny Toes Reflexage instructors are fully qualified and insured reflexologists who can also treat your babies as required.

Tiny Toes Reflexage uniquely combines elements of baby reflexology, massage and movement. It is an effective way of communicating and connecting with baby.

Babies' first language is touch and by using safe gentle effective techniques you can enhance your bond and aid many early discomforts.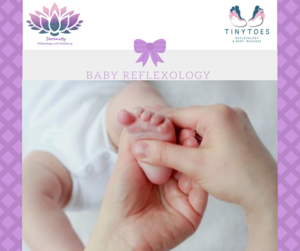 Tiny Toes Reflexage classes held in Leighton Buzzard
In my 5 week course you will learn techniques for:

calming and soothing your baby,
nurturing and bonding with your baby,
comfort and sleep,
digestion and colic,
teething and colds.

This course is suitable for babies from around 6 weeks to crawling. Small friendly classes take place in Linslade.

You can also book one to one sessions and private classes with a group of friends, to be held here or at your own venue. Please contact me directly for further information.

5 week course £60






Next Available Class
Next course will be starting on Wednesday 6th September 2023 at 10am for 5 weeks.

Book Now or contact me to book.

Why not Buy a GIFT VOUCHER for a Tiny Toes course? An ideal present for baby showers and loved ones at this special time.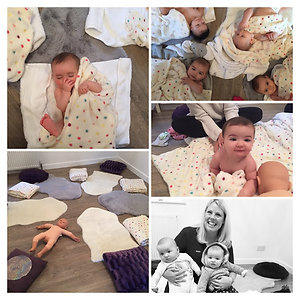 Starting Solids Workshop
Workshops run regularly throughout the year. Private bookings and one to one sessions are also available upon request.
Introducing your baby to solid foods can be a very exciting time but you may also feel unsure and have lots of questions.This workshop will help you to understand why we introduce solids and decide when the time is right for you and your baby. We will cover the signs of readiness and different approaches, current guidelines, and baby-led weaning, spoon feeding, purees and a combination of these. We will also look at drinks, milk, snacks and meal ideas. The workshop will be run in small friendly groups in Linslade and will aim to be fun and interactive, taking approximately 2-2.5 hours. I will give you notes to take home following the workshop and access to further support and guidance.

Workshop price £25.

I am a Chilled Mama-trained starting solids facilitator, with over 4 years experience of working with babies and their families in Leighton Buzzard. Please contact me if you have any questions.